All is not as it should be with the world. When I'm on my sofa listening to Launchcast, I'm subjected to Nickelback songs. That's no way to live, and I'm willing to go to the very gates of hell and back to avoid walking 15 feet to hit the "Skip" button every time it happens.
The problem
Back when you had a TV that looked like this:
if you didn't like what was on, you just had to wait it out or get up. Wiser minds than mine realized early that this situation was untennable.
In June of 1956, the first consumer wireless remote control entered the home. It may be just coincidence that this came two months after As the World Turns was introduced on CBS.
Fastforward 50 years.
Now, an increasing amount of my entertainment content comes from my PC, not an audio component sitting with my television. When I'm listening to Yahoo Music Engine and their Launchcast station tries to pawn some Nickelback off on me, I have to get up and skip the track by hand.
This shall not stand.
My Goal
I'm going to use the same infrared remote control I use for my home entertainment system to interact with the Yahoo Music Engine on my PC. It won't be easy, and the fact is, I'll spend more time putting this system together than I would have spent walking over to the computer to skip Nickelback songs over the next year.
If you don't get why I would do this, stop reading here because it's not going to get any better.
Along the way I'll keep track of how much time and money I'm spending to get this done. At the end, I'll have a parts list and step-by-step plans to make this dream a reality in your own home.
The parts list so far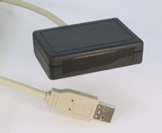 Cost
I expect to spend a little less than $150 (including shipping). I have spent 5 hours finding options and selecting all of these purchases. I expect I'll spend about 20 hours by the time this is over. I will add items to the total expenses as they arrive.
Budget update: $0.00, 5 hours